Following are the notes from the session that I could capture and post the live on FB and such. Putting them together here (not necessarily in the chronological error).
But first the details of the next event below –
—
AAP invits u 2 a session with PrashantBhushan. Sun,22Dec,3-5PM. JainTrustHall, WoodStreet, Opp.BrigadeTowers, AshokNagar,BLR.
The link to venue is below. Please spread the word. This is the finest form of participatory democracy we have seen. Come by!
—
Also before the notes please go through why we are so hopeful about AAP and wish to support it. A friend (Rajesh Golani) has written about it –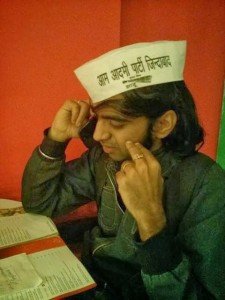 "Hey Guys, I used to be a fan of Modi once, and I still regard him better than most other politician. But after spending some days with AAP, and I realized it was at another level. They had all the answers that you wanted to know. Every effort is made to put everything online, and make it as clean as possible. Ofcourse they do make mistakes, but I see lot of intent to fix things.
Then when I started comparing with BJP, I realized there are lot of things which are grey. They don't disclose their source of funding. I dont find anywhere how much did they spend on elections in Delhi. What are they planning to do about wide scale liquor and cash distribution. Most importantly I want to know what kind of deal they are working out with Yedurappa, and what investigation they have done regarding Nitin Gadkari for murder of 7 year old kid in his car. They may all be non-guilty and fine, but what is the point in not making it clear.
First time when I went to AAP, I was told that you don't have to only campaign for AAP but you have to campaign for all the good clean candidates of BJP and Congress. Please disclose all our strategies in public, dont be afraid, if other political parties can employ them it is only going to help. The fight is not to come to power, the fight is to clean up politics. Force other parties to field clean candidates, fight elections with white money. If that happens AAP does not need to exists. I really identify with this cause. If BJP/Congress really wants to do something of that sort, I would love to volunteer with them. I have tried contacting them multiple times, but I dont get any reply, maybe am not writing to right people.
Further as far as Modi is concerned, yes he maybe better if you compare with other BJP/Congress leaders. But if BJP wins, and we have likes of Gadkari and Yedurrappa in cabinet, how are we expected stricter anti-corruption laws, women's safety. I am scared of all the Senas who seem to think that they are authority on Indian culture and how women should appear in public else they would start beating up people. If Modi does not raise voice against them now, how are we expecting him to do so once he forms Government. Would it not become even more difficult. Maybe BJP has already thought about these answers but I dont seem to see or hear about them anywhere.
Secondly I would request all the BJP supporters to compare Gujarat before and after Modi. That would give idea of the progress. Am looking for data in that regards, if anyone has it, please share on this forum. I am from Baroda, and except Government offices being efficient, I dont see much difference in Gujarat pre and in era of Modi. So I feel Modi has done good work, but that has been exaggerated to remarkable extent.
Can we all not get together and seek these answers of BJP, does anyone have any email or phone number of BJP that they reply to. (Ofcourse I have same concerns with Congress as well, and seeking answers from them)
The idea is to pressurize Political parties to be clean, and lets try to do that in our capacities. Cant we get together and make things better."
The Notes follow –
—
#AAP we are in decision mode. No discussion please
#AAP YY – "sincere apologies for being late. Apologies for not knowing kannada the language has more gyanpeeth awards than other languages.     Will speak in hindi and english." There is request for Kannada translation. Summary translation requested by YY despite residence
#AAP Never in the history has a runner up spoken about to this extent! 🙂 man if the year award,  Newsmaker of the year award, etc. People are treating this a victory! 🙂 yeh ek naitik jeet hai! 🙂
 #AAP the big apartments would not let us in. The watchmen said, "I will vote for you but I can't let you in! :-)" The huts let us in, gave chai and contributed 10/- they are the reason this happened! 🙂
#AAP We are faced with challenges. A party only of delhi/metro. Honesty is not the monopoly of people living in the cities. They can't handle such responsibility. They are a party of north India.
#AAP the politics has become like companies – Devegowda and sons, rajiv gandhi and sons, wives, daughters and son in law and company. AAP is not a company! 🙂
#AAP no party in the history of India has ever requested the people not too vote for their candidate. AAP did this for one candidate as there was a FIR against him on domestic violence. The case hadn't been heard but the candidate did not disclose this case so he was asked to withdraw. It was late to withdraw so this announcement went that despite the jhaadu sign please do not vote for him. Not one media covered it! 🙂
#AAP the manifestos were made in open with discussion public. Who should be there leader. Calls like i will get you 20000 volunteers just get me a seat. They respond "why don't you get the volunteers and do the work. When the time to choose the candidate comes you will be chosen based on your work" they never heard from him again! 🙂 such things are unheard of! 😀
#AAP hum ek nimitt matr hain. We are a vehicle to this change. If we think we are the pen wiring history the arrogance will be the end of AAP! 🙂
#AAP we shouldn't waste even a minute congratulation ourselves. We now have a challenge and we need to work towards that. We have a glimpse of what an ordinary person can do. Now is the real work. Bade kaam chup chap hote hain. Choti choti cheezen will lead to an extra ordinary result! 🙂
#AAP we have been sitting in dark for an hour now and wonder is the power has been but to this place specifically? 🙂 The session moves nevertheless! :-))
#AAP Please don't have railway compartment mentality. We have a huge responsibility at hand, a huge opportunity and we are so tiny! 🙂 Itihaas ne bahut bada avasar hume diya aur hamari jholi choti hai. Choti soch ke liye koi jagah nahi hai. We have to make friends even people who criticise is if they are capable. Join hands with them. Ticketaarthi log aayenge but we have to be very careful. There is only one way to get ticket – chappal ghisso! :-)) is there someone better than me for this. Get that person. He is the one we are looking for! 🙂 like Rajani Kothaari who accepted a professor at a higher place than himself in his own institute! 🙂
#AAP the volunteer that does the quiet job even so of giving receipts! 🙂 not the one who gets into the frame! 😀 there is an advantage to not have experience! 🙂 we innovate, political parties don't do surveys, we did.
#AAP Expand, organize, innovate and finally we need to learn! 🙂 Parnab asked what did you learn. YY "i learnt how little i know about politics" 🙂 we need to learn from the people! 🙂
#AAP 30000 people have a registered as members in the last 9 days. Maximum contribution from Bangalore and now you can clap. When people say we are hindi wala it hurts – We are india wala! 🙂 Karnataka is the place we are looking forward to. People should never tell Hindi wala again! 🙂
#AAP we will change the politics, we will create a future for our children and in the process become better people than we are! 🙂
#AAP Even this place has not been booked. Donated by the owner. The power is not there. The meeting continues unhindered. Thanks to the volunteers! 🙂 I wonder if the power was cut intentionally. Someone is scared perhaps! 😀 a fine example of persistence! :-))
#AAP We have surprised then in past
We will surprise them in future! 🙂
#AAP YY explains the current situation with AAP with this story "There are a father and son with a donkey. If the dad walks and son sits on the donkey – they will say cruel son doesn't care about dad, if son walks they will say – cruel dad doesn't take care of the son, if they both sit they will say "cruel people poor donkey" and if both decide not to sit then they will say "look at these donkeys – they are not using the donkey"! 🙂
#AAP one of the lady volunteers "jab baby hua job chhod diya, jab delhi main election hua toh baby chhod diya! :-)"
#AAP
YY "aristotle said that politics is the highest virtue for the human. In sports there is a decathlon and politics is that…"
—
The video above showing the work of Arvind Kejriwal from 12 years ago! 🙂